03aug9:00 AM10:00 AMDr. Rachel JordanCareer Club
Event Details

You're invited to attend our GENE Career Club session on Tuesday, August 3rd at 9:00 am. 

We have the pleasure of hosting Dr. Rachel Jordan, former GENE graduate student who is working at iBio (https://www.ibioinc.com)

Please join us using the link below:

Meeting ID: 950 9833 2086
Passcode: 175812

Dr. Jordan began her career in the industry in 2016, and since then has worked in research and development as well as outward-facing roles at the business-to-science interface.  Much of her career has focused on innovation. In graduate school, Dr. Jordan was involved in mentoring, teaching, and the Genetics Graduate Student Association (GGSA).  She holds a B.S. in Cellular/Molecular Biology and completed a Ph.D. in Genetics at Texas A&M in 2015.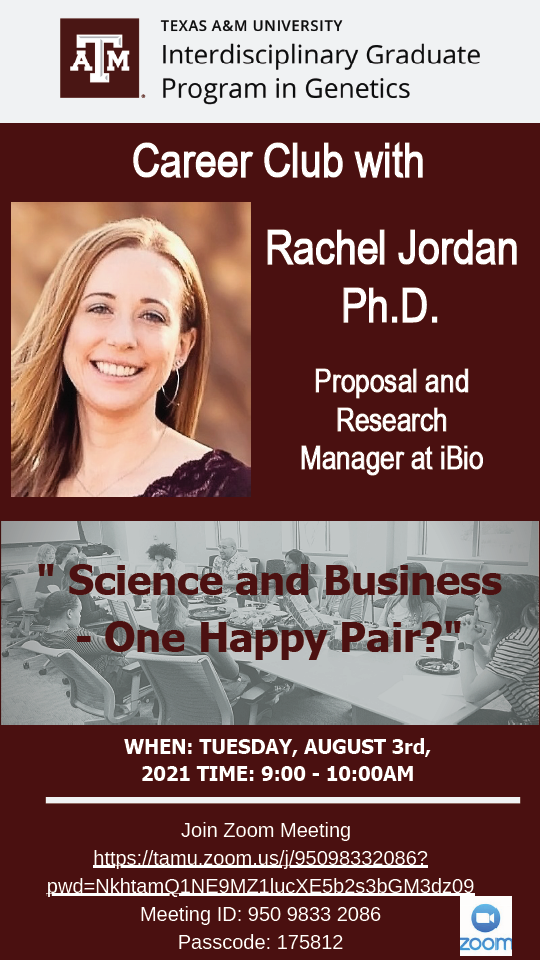 Time

(Tuesday) 9:00 AM - 10:00 AM CST
Organizer
Dr. Ximena Paez-Colasante