25feb9:00 AM10:00 AMDr. Lucy HinderCareer Club Series
Event Details

You're invited to another session of our GENE Career Club Seminar Series. We have the pleasure of hosting Dr. Lucy Hinder, a Medical Science Liaison (MSL) at Reata Pharmaceuticals.

Save the date on Thursday, February 25th, at 9:00 am. Please use the Zoom link below to attend the meeting:

https://tamu.zoom.us/j/97457491623?pwd=dXdBeVJlRW12aHJ3MUxST29XS016QT09
Meeting ID: 974 5749 1623
Passcode: 747447

Dr. Lucy Hinder will talk about her journey from PhD to becoming an MSL
"How a burnt out academic reconnected with her love of science"

Dr. Hinder received her undergraduate and graduate degrees in Biomedical Sciences from the University of Aberdeen (Scotland). In 2009 she moved across the Atlantic to join the Program for Neurology Research & Discovery at the University of Michigan as a Postdoctoral Research Fellow. Under the mentorship of Dr. Eva Feldman, Dr. Hinder designed, performed, and interpreted mechanism-based studies using complementary in vivo and in vitro models to facilitate research discoveries with translational potential for diabetic neuropathy. Dr. Hinder received the JDRF Angelika Bierhaus Postdoctoral Fellowship in Diabetic Complications (2013-2016), the American Neurological Association Wolfe Neuropathy Research Prize (2015), and her work has been featured in Neurology Today and the newsletter of The New Zealand Society for the Study of Diabetes. During her academic career, Dr. Hinder published 24, high-impact, peer-reviewed manuscripts, 1 book chapter, and provided peer review service for 6 scientific journals.

In 2019 Dr. Hinder left academia to pursue a career in Industry. She joined Reata Pharmaceuticals as their Midwest Nephrology MSL. Based in Ann Arbor, MI, Dr. Hinder is responsible for developing and managing relationships with Key Opinion Leaders across a seven-state territory.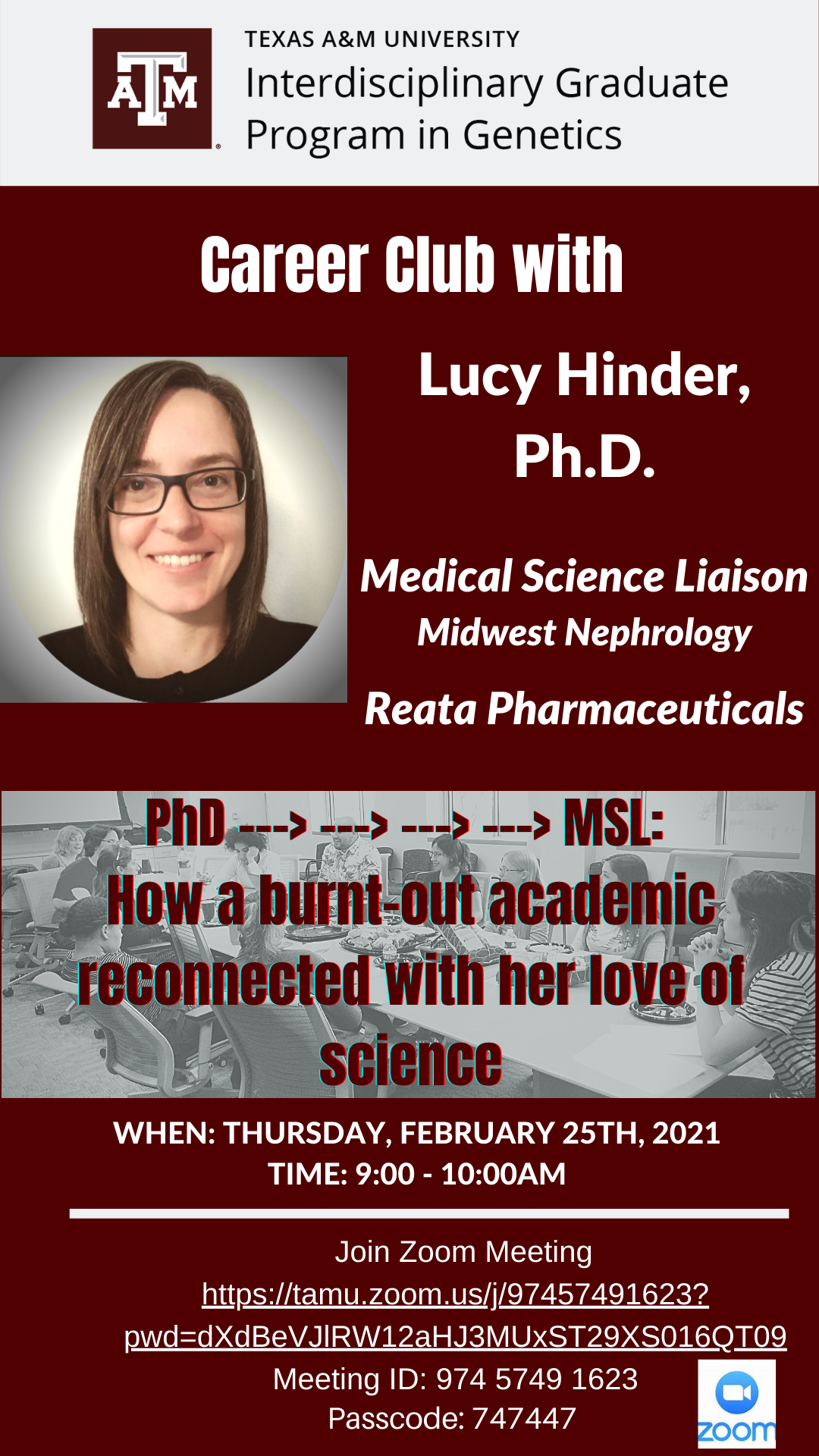 Time

(Thursday) 9:00 AM - 10:00 AM CST
Organizer
Dr. Ximena Paez-Colasante