06may9:00 AM10:00 AMDr. Justine deGruyterCareer Club
Event Details

You're invited to another session of our GENE Career Club Seminar Series on Thursday, May 6th at 9:00 am.

We have the pleasure of hosting Dr. Justine deGruyter – Postdoctoral Administrative Associate.

Please use the Zoom link below to attend the meeting:

https://tamu.zoom.us/j/95252386386?pwd=V0tSQlM4dGhlTTAxVUs3OG53UitUdz09

Meeting ID: 952 5238 6386

Passcode: 217913

Title:  "Yes, and … What the art of improv can teach us about effective science communication"

Description:  Increase the speed of thought. Though perhaps unnamed, nearly all scientists engage in high-level improvisation daily through adherence to its three basic tenets: react, adapt, and communicate. As a discipline, improvisation (improv) is an accessible activity in which participants learn effective communication and resourceful adaptation techniques. Formal training expounds on these concepts to teach active listening and mental agility, all while leveraging a student's natural charisma. Beyond performative communication skills, improv boasts a notable parallel to graduate research – namely, the process is the product. This activity will embolden students to take risks without fear of derision, and instead challenge them to embrace failure as a catalyst for innovation.

Dr. Justine N. deGruyter received her Ph.D. in Organic Chemistry from The Scripps Research Institute (2019) under the supervision of Prof. Phil S. Baran. As an NSF graduate research fellow, her work focused on the synthesis and modification of drug-like biomolecules, and resulted in 12 publications, 5 national awards, and a recently-licensed U.S. patent. In 2019, Dr. deGruyter joined the TAMU Department of Biochemistry and Biophysics as an administrative postdoctoral associate and Graduate Program Coordinator. Her independent research interests center on intradisciplinary science communication, the advancement of underrepresented minority students, and the intersection of the former two. Prior to her start in science, Dr. deGruyter spent nearly two decades training in musical theater and the performing arts; this invaluable experience continues to shape her approach to creativity in science education.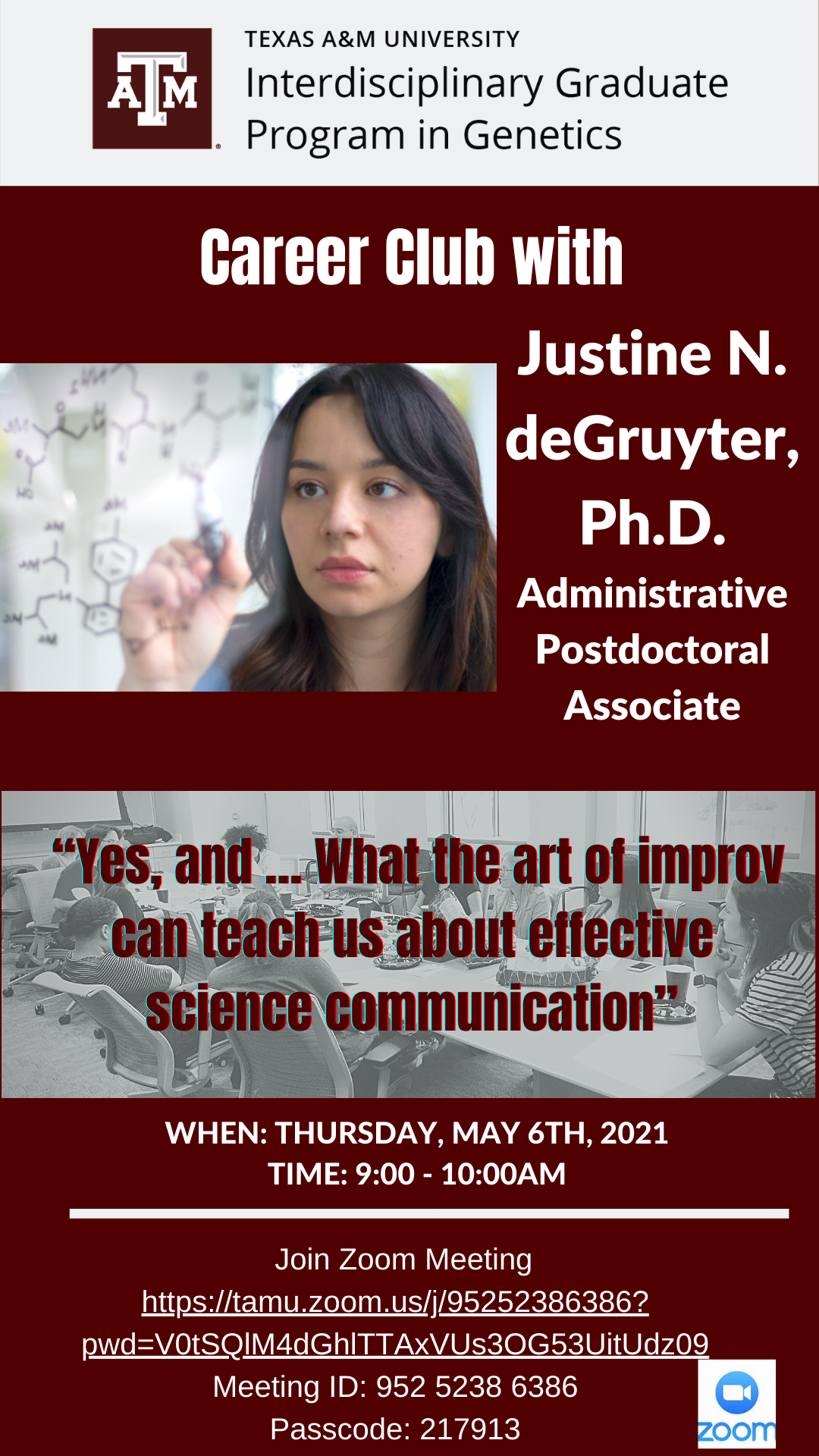 Time

(Thursday) 9:00 AM - 10:00 AM CST
Organizer
Dr. Ximena Paez-Colasante