18mar9:00 AM10:00 AMDr. Christopher QuickCareer Club
Event Details

We are looking forward to seeing you all this Thursday, March 18th at 9:00 AM at our GENE Career Club Seminar Series!

We have the pleasure of hosting Dr. Christopher Quick, a Professor in the Department of Veterinary Physiology & Pharmacology at Texas A&M University.

Dr. Quick will talk about leadership opportunities with the Aggie Research Program.

Please use the Zoom link below to attend the meeting:

https://tamu.zoom.us/j/94893840677…

Meeting ID: 948 9384 0677

Passcode: 998562

Dr. Christopher Quick is a professor in the Department of Veterinary Physiology & Pharmacology in Texas A&M's College of Veterinary Medicine & Biomedical Sciences. He earned both his bachelor's and master's degrees in bioengineering within four years from the University of Pennsylvania and then took his time to earn a doctorate in biomedical engineering at Rutgers University. He joined the CVM faculty in 2002 and was promoted to full professor in 2015. While in his first few years as an assistant professor, he developed a team-based approach that greatly expanded opportunities for undergraduates to engage in authentic research. His approach to structuring student-centered learning environments has been applied in numerous contexts, including a large-scale summer research program funded by the NSF and NIH, the Aggie Research Program (ARP), numerous course-based undergraduate research experiences (CUREs), and the Biomedical Research Certificate Program (BRC). After founding the ARP and BRC four years ago, he cultivated their growth so that they served a total 1,200 students just in the 19-20 academic year alone. He has received several teaching awards, including the Association of Former Students Distinguished Achievement Award in Teaching, the Betty M. Unterberger Award for Outstanding Service to Honors Education, the Sigma Xi Outstanding Texas A&M Science Communicator Award for Faculty, and the Eppright Professorship in Undergraduate Teaching Excellence.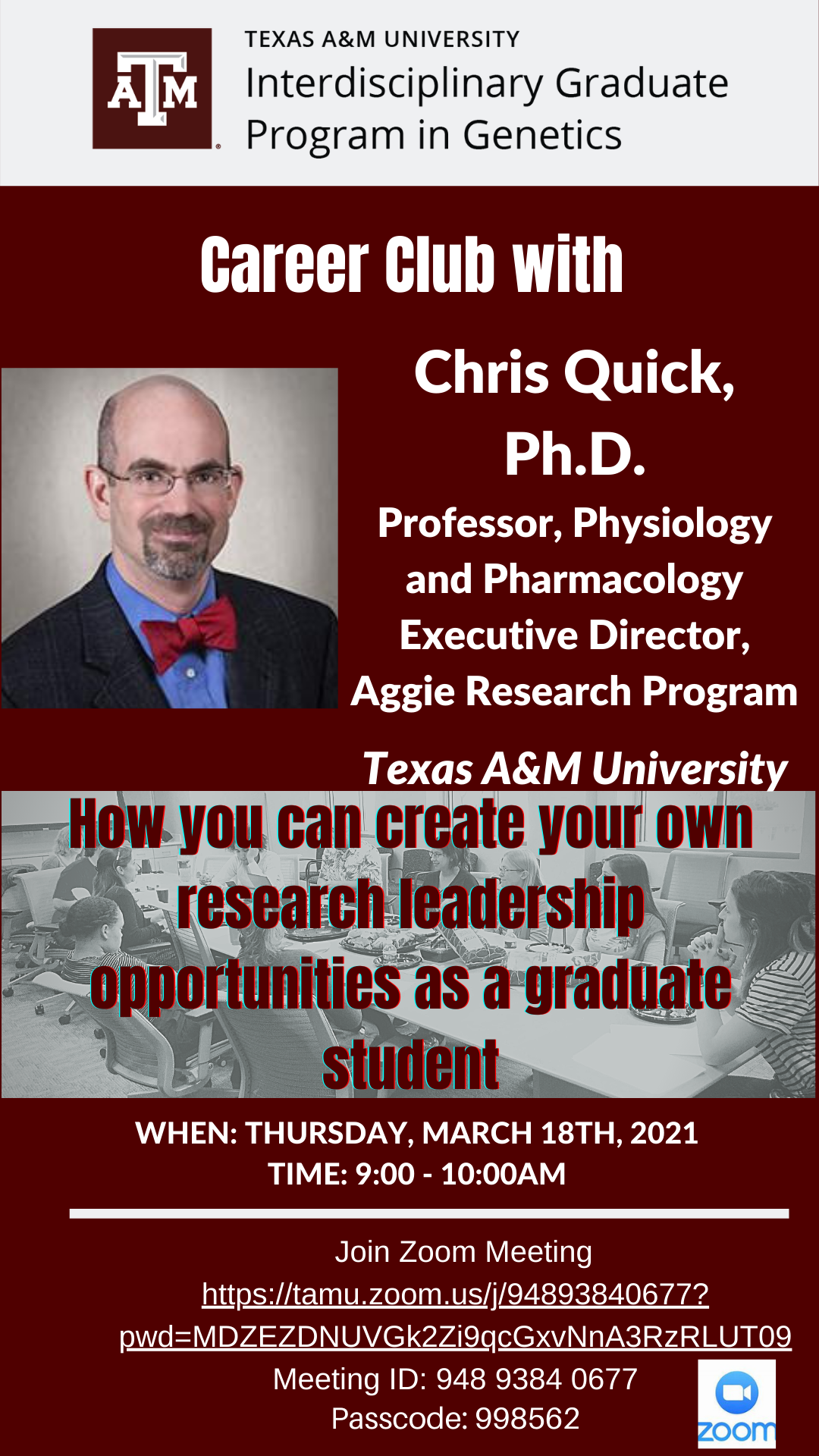 Time

(Thursday) 9:00 AM - 10:00 AM CST
Organizer
Dr. Ximena Paez-Colasante