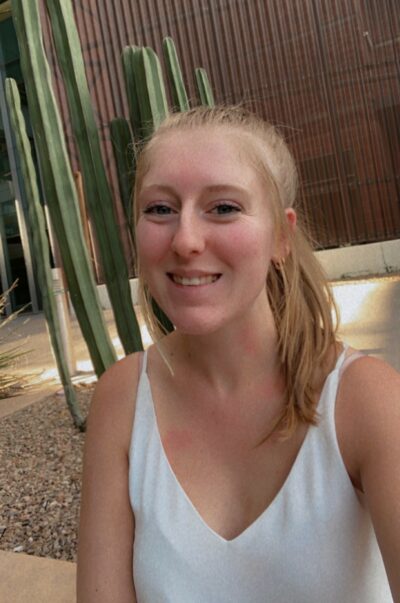 Victoria Bunting
Current Institution:
The University of Arizona
Hometown:
Tucson, Arizona
Fields of Interest:
Medical Genetics- Human and Animal
Microbial Genetics
Molecular, Cellular and Developmental Genetics
When and how did you realize that you wanted to study Genetics & Genomics?
I realized I wanted to study Genetics when I was fourteen after watching a documentary in biology class on the Human Genome Project. The scientists in the film were convinced they could solve all the worlds genetic diseases by decoding the human genome and while watching them discuss, it just clicked for me that I wanted to be a part of that too. I became fascinated with the idea of going down the microscopic level, studying someone's DNA, and being able to come up with a solution to their genetic disease. I've been set on a Genetic research path ever since.
Why did you choose the Genetics & Genomics Ph.D. program at A&M?
I chose the Genetics & Genomics program at A&M based upon the research opportunities available as well as the supportiveness of the program to its students. It's clear that this program and the people who run it want all the students to have the best experience and opportunities possible during their time at A&M.
If you were free to choose anything, what research question/topic would you like to address for your graduate studies?
I would love to work on a research project relating to gene therapy as that has interested me for a long time, however I'm open to any research relating to a genetic disease.
Fun Facts:
What would be your dream job after graduation from the program?
My dream job after graduation would be to work for St. Jude Children's Research Hospital. As a Tri Delta sorority alumni, our national philanthropy is St. Jude and over the years I have been a part of their mission to raise money to help fund all the research and familial support St. Jude offers. Being able to work at St. Jude as a researcher, after years of being a supporter, and to be a part of their amazing mission would be incredible.
Favorite place you have travelled to.
I have travelled to over twenty-one states and it is my goal to one day visit all fifty. So far, my favorite place I've visited in Santa Fe, New Mexico. It is an eclectic, historical, beautiful southwestern city unlike anywhere else I've been before. I hope to go back one day for the hot air balloon festival in October.