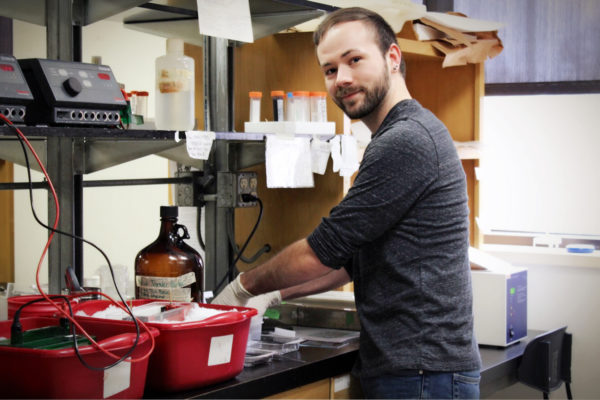 Timothy Sveeggen
Dr. Kayla Bayless Laboratory
Entrance year: 2017
Hometown: Beresford, SD
"I work on a protein called Annexin A2 and am trying to understand how it plays a role in angiogenesis, the development of new blood vessels. Currently, my focus is on the stability of cell-cell junctions and how this protein organizes different complexes to ensure blood vessels function appropriately. This process has many implications in health issues like cardiovascular disease and cancer."
Research Specialties
Bioinformatics and Genomics
Medical Genetics- Human and Animal
Molecular, Cellular and Developmental Genetics
Why did you choose the Genetics PhD program at A&M?
The fact that the program is interdisciplinary was one of the biggest draws for me. Having the ability to choose a faculty mentor from almost any other field of science is a fantastic opportunity to develop expertise in applied genetics. This only serves to enhance the impact of one's research throughout their career.
When and how did you realize that you wanted to study Genetics?
I have always been interested in how life works, but for a long time was not sure what I wanted to do with that passion. Combined with my love for animals, I thought veterinary medicine was where I wanted to end up, so I pursued a bachelor's degree in animal science at Iowa State University. After taking genetics and developmental biology courses, I quickly realized a career in genetics-related research was the right path for me.
Fun Facts:
Who was your famous role model growing up?
I never had any specific role model, but I've always been inspired by people who questioned the status quo and overcame criticism to pursue their passions. Examples include Florence Nightingale, John Snow, and Leo Tolstoy.
What would be your dream job after graduation from the program?
Dreaming big, I am interested in developing an alternative model of research and education that is financially self-sustained, away from government and grant cycle biases. I do love to teach, so at the very least I'm hoping to find a faculty position one day.
Do you have any pets? If so, please tell us about them.
I have a tall, black cat named Ganondorf. I adopted him as a 6-week-old feral kitten in 2015. He likes to cause trouble, go on walks, and is trained to do a number of tricks.