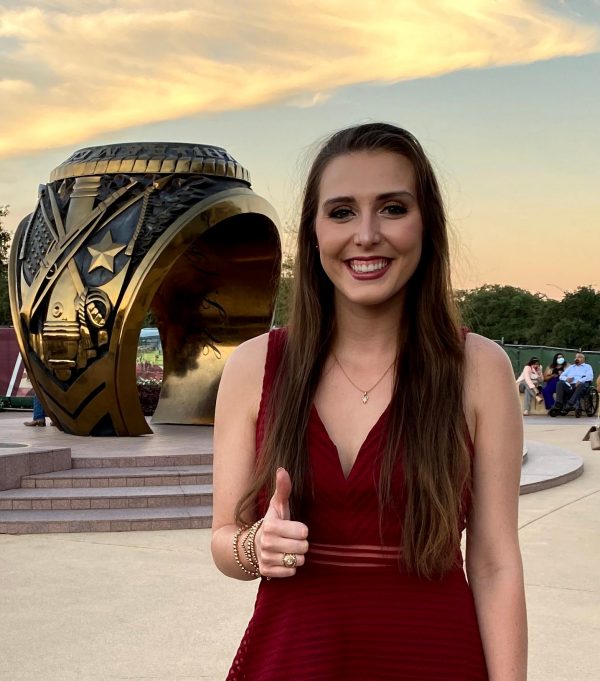 Samantha Higgins
Current Institution: Texas A&M University
Hometown: Jemison, Alabama
Fields of Interest:
Bioinformatics and Genomics
Medical Genetics – Human and Animal
Molecular, Cellular and Developmental Genetics
When and how did you realize that you wanted to study Genetics?
Science has always fascinated me from a young age. On Christmas I would ask for the small science kits they would sell with premade slides to look at under a tiny plastic microscope and would do "experiments" in the kitchen. Throughout high school my love for science grew and I wanted to continue learning. So, I have always wanted to research and further grow my understanding of science. However, it was not until I had a basic lecture on genetics in a high school class that my fascination with genetics became apparent. My undergraduate genetics courses at Texas A&M solidified that I wanted to further develop a knowledge of the subject and research within the field.
Why did you choose the Genetics PhD program at A&M?
As an undergraduate at Texas A&M, I have had countless opportunities that has allowed me to grow as a young scientist and wanted to stay within this community. I love the spirit of Aggieland and that it has become my home, however I also wanted to choose a top-tier research institute for my graduate studies, such as Texas A&M. I have no doubt that choosing the Genetics PhD program here was a wise choice as I know that by the time I complete the program, I will be well prepared with the knowledge and skills needed to work in a related field.
If you were free to choose anything, what research question/topic would you like to address for your graduate studies?
I have several interests. I would like to study the various mechanisms of genetic diseases and feel that it is of great importance to aid in discovery of treatments/preventions for such diseases. I am also interested in hereditary cancers and working toward their preventions. Lastly, I would like to further research genetics applications in forensic science.
Fun Facts:
What would be your dream job after graduation from the program?
After graduation, my dream is to help people with what knowledge and experience I acquire in the Genetics PhD program, such as working towards cures for genetic diseases or cancer in a clinical laboratory or as a forensic geneticist for a city or state laboratory.
Do you have any hidden talents? If so, what are they.
I enjoy figure skating and long ago would perform in Christmas shows on ice at my local ice rink in Alabama. I competed one time and try to go when I have a chance to Spirit Ice arena here in College Station. I also love sketching in my free time.
Favorite place you have travelled to.
My favorite place that I been so far is Yosemite National Park. Experiencing the natural grandeur and beauty of the park with my family is one of my favorite memories. One day, I would like to travel to see all the national parks.