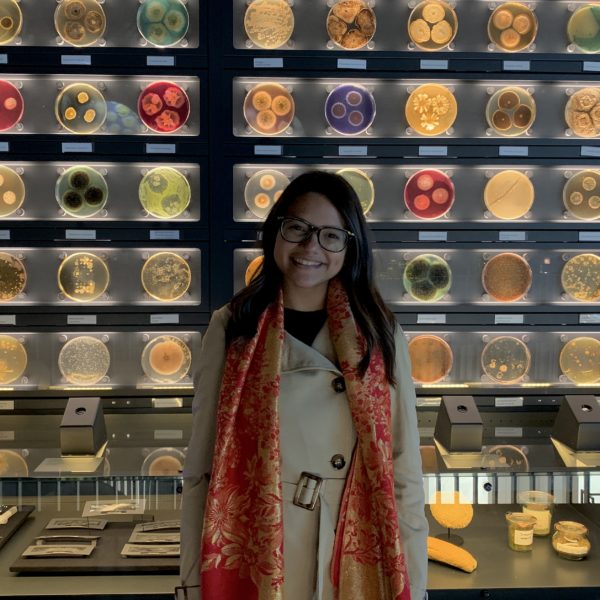 Osiris K. López-García
Current Institution: University of Puerto Rico – Mayagüez Campus
Hometown: Carolina, Puerto Rico
Fields of Interest:
Bioinformatics and Genomics
Medical Genetics- Human and Animal
Microbial Genetics
When and how did you realize that you wanted to study Genetics?
Realizing that as humans we carry more microbial genes than human genes and that those can have a bigger influence on our health than the genes that we have inherited from our parents was a turning point for me. Since then, I developed a very personal desire to further study the relationship of the microbiome to diseases and potentially see how it can be used to treat them. I want to study Genetics focusing specially in microbial and medical genetics because it aligns with my interest of further understanding how microorganisms affect our health.
Why did you choose the Genetics PhD program at A&M?
What attracted me to the program is its interdisciplinary focus and the possibility of obtaining training in various areas outside the curriculum such as certifications in education and business. But what made me choose the program was the community, Texas A&M is a huge institution and the program has a great diversity of experts and students in different areas, which I believe can help me grow as a scientist. In addition, being part of the department's summer program was a great personal and professional experience that reaffirmed my desire to pursue higher education in genetics and the treatment I received during the summer from the administration, faculty, and students I was able to meet made the decision a no-brainer.
If you were free to choose anything, what research question/topic would you like to address for your graduate studies?
Being born and raised in Puerto Rico, I was able to witness how obesity and a whole range of related diseases have become the leading causes of death in my island. I want to change these unfortunate health statistics in Puerto Rico and in other regions of the world with similar problems. It is my goal to transform the way we treat these types of conditions in the future to better help future generations. Because of this I would like to do research in an area that allows me to potentially impact society and improve our knowledge of diseases and health-related problems so my focus would be to study pathogenic microorganisms or genetic diseases.
Fun Facts:
What would be your dream job after graduation from the program?
My dream job would be to teach in a small university and have a research lab for undergrads and master students. I want to be able to mentor younger scientists, specifically those who come from underrepresented backgrounds.
Do you have any pets? If so, please tell us about them.
I have a Pitbull/Husky named Aqua because of the color of her eyes. Me and my best friend rescued her right after Hurricane María, she is two and a half years old now but still behaves like a puppy.
Favorite place you have travelled to.
Last year I went to Amsterdam, Netherlands, and my favorite place there was the Micropia Museum which is the only museum dedicated to microbes in the world. I was really fascinated by their exhibitions, especially a whole wall covered in petri dishes showing all different types of bacterial and fungal cultures.