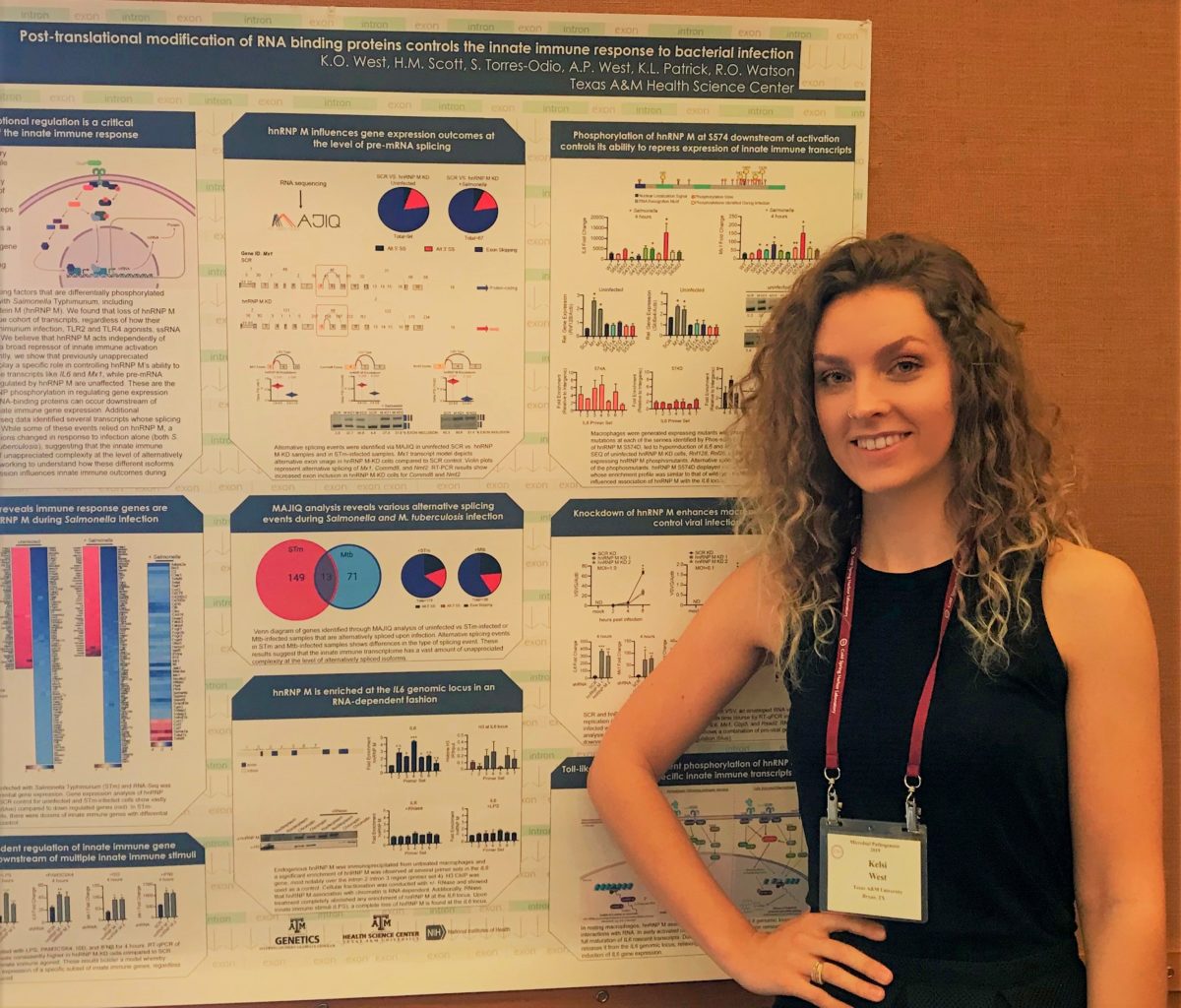 Kelsi O. West
Dr. Robert Watson Laboratory 
Entrance year: 2016
Hometown: Sharptown, Maryland 
"RNA splicing disruption results in both functional and non-functional gene products that can have polarizing effects in a cell, but the mechanisms behind these processes have not been illuminated during the context of the immune response. We believe that splicing is a major regulatory node of the innate immune response and I am interested in how innate immune gene expression is regulated by splicing factors through influencing pre-mRNA splicing outcomes via post-translational modifications of splicing factors."
Research Specialties
Bioinformatics and Genomics
Medical Genetics- Human and Animal
Molecular, Cellular and Developmental Genetics
Why did you choose the Genetics PhD program at A&M?
The diversity and interdisciplinary of the Genetics program are what first caught my attention at Texas A&M. I loved the idea that I could perform research in labs ranging from sharks to Arabidopsis. Additionally, my mom grew up outside Dallas and always talked highly of Texas. She was a fan of the orange devils in Austin, so I decided to rock the boat and apply to Texas A&M. She still gives me a hard time about being an Aggie, but I wear all my Aggie gear with pride, especially around her.
What is at least one big lesson you have learned in the Genetics graduate program that you think is widely applicable to your future pursuits?
Advocate for yourself. This is when you start pursuing your interests and thinking about the career you want and what skills you need to acquire to get that career.  You can take courses, learn a new experimental technique, and teach yourself using all the resources here at Texas A&M and beyond. Ask for help and people will show you how to get where you need to be. The resources are endless here, and outside of Texas A&M, through collaborations and online resources. There is no excuse!
When and how did you realize that you wanted to study Genetics?
As an undergraduate, somehow, I got into a Molecular Genetics course that I didn't technically have the pre-requisites for. I was almost immediately overwhelmed. I talked to the professor, Dr. Les Erickson, and he told me that people didn't succeed in that class without the proper cell biology background. But as the stubborn person that I am, I took that as a challenge. I am so happy that I did. As soon as I taught myself enough cell biology to understand the concepts, I fell in love with genetics. I can still remember the day he covered the topic of epigenetics.
Most Recent Research Publication:
Kelsi West's first author paper:
https://www.sciencedirect.com/science/article/pii/S2211124719312823
Other publications where Kelsi West is listed as a co-author:
https://elifesciences.org/articles/51071
https://www.jimmunol.org/content/early/2020/05/13/jimmunol.1901511
Fun Facts:
What would be your dream job after graduation from the program?
You said dream, right? If I could somehow sell vegan smoothies on a beach in Hawaii while remotely working using bioinformatics to analyze genetic data, that would be it.
What is your favorite thing about life in College Station?
Layne's, Torchy's, Chicken Oil, Rudy's, Fargo's, Shiraz Shish Kabob, Howdy's, Kamei Sushi, Lupe Tortilla, Mad Taco, and Farmhouse Creamery; but mostly Layne's (everyone should have their grilled cheese at least once). Also, this is an encompassing list that covers the best food choices in Aggieland. You're welcome!
Do you have any hidden talents? If so, what are they.
I have always been pretty good at sewing, long before Coronavirus made it popular. I've made curtains, dog beds, pillows, backpacks, clothes, purses, wallets, blankets, and of course, face masks.  I believe people need hobbies. Find something that gets you so engaged that you don't think about anything else. For me, that is sewing.