Eric Shah
Current Institution: University of Texas Rio Grande Valley
Hometown: Edinburg, Texas
Fields of Interest:
Microbial Genetics
Molecular, Cellular and Developmental Genetics
Plant Genetics
When and how did you realize that you wanted to study Genetics?
I initially took a Genetics course during my undergrad at UTRGV. I remember being fascinated with the different mechanisms and concepts being taught. As my education progressed more into the molecular realm, my love for genetics grew.
Why did you choose the Genetics PhD program at A&M?
The diversity of research currently being conducted at Texas A&M is truly admirable. I believe that science should be an alliance of multiple disciplines that work towards aiding this world and humanity – Texas A&M reflects this notion phenomenally. Additionally, the sense of community and the current students provided an environment I was looking for in a PhD program.
If you were free to choose anything, what research question/topic would you like to address for your graduate studies?
I am very interested in the topics of epigenetics and signal transduction processes. I think epigenetics is intriguing, and I would love to help elucidate the mechanisms behind these heritable environment-influenced methylation patterns.
Fun Facts:
Who was your famous role model growing up?
Growing up, my role model was Ms. Frizzle from the cartoon The Magic School Bus. That show did wonders for fostering my love for biology. I even dressed up as her for Halloween a couple of years ago.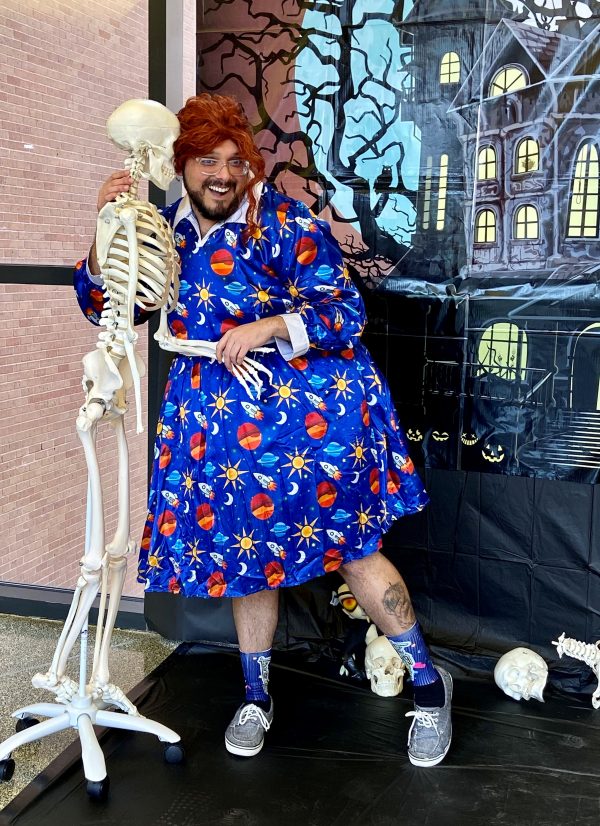 What would be your dream job after graduation from the program?
I would love to be a professor someday. I want to bring my education back to the students. I want to inspire individuals as my mentors did for me.
Do you have any hidden talents? If so, what are they.
I am a published poet. I enjoy writing about humanity and how we are beautifully fallible.
Favorite place you have travelled to.
My favorite place that I have traveled to is Muir Woods National Monument in Mill Valley, California. The immensity of the redwoods in this forest is breathtaking and humbling.