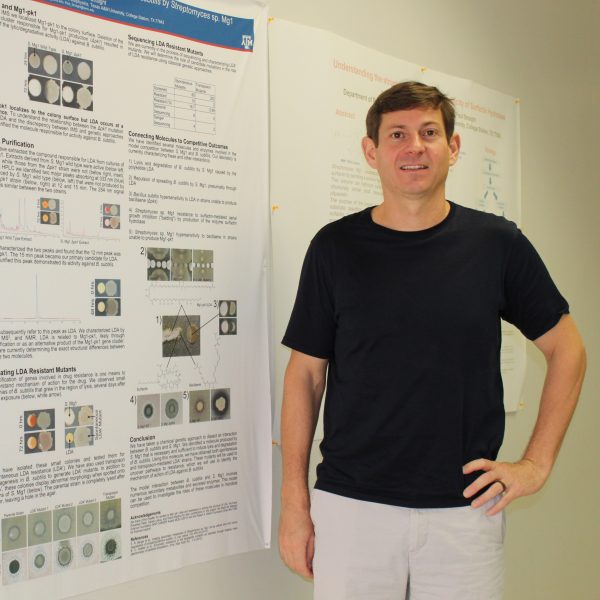 Dr. Paul Straight
Lewis & Clark College, Portland, Oregon
B.A., Biochemistry
University of Colorado, Boulder
Ph.D., Molecular, Cellular & Developmental Biology
Harvard Medical School, Boston, Massachusetts
Postdoctoral, Microbiology
"Our research focuses on competitive fitness in bacteria. We study interactions between different species of bacteria to identify the mechanisms that enable each organism to detect and respond to a competitor. Our experiments focus primarily on soil bacteria because they produce chemically diverse antibiotics and other bioactive metabolites that provide fertile ground for discovery."
Research Specialties
Bioinformatics and Genomics
Microbial Genetics
Molecular, Cellular and Developmental Genetics
How long have you been a faculty member at Texas A&M?
I arrived in College Station in the summer of 2008, making it 13 years.
What makes A&M stand out above other institutions?
What is the best part about being part of the Genetics program?  Texas A&M offers expertise in just about every discipline imaginable. The scale and diversity means our research can explore many directions with help from expert colleagues in Genetics and several other areas. As an example, we have recently been collaborating with Carol LaFayette and Courtney Brake in the Department of Visualization, adding a touch of art to our science.
What is your favorite conference to go to? And why?
ISBA – the International Society for the Biology of Actinomycetes. The conference is always a perfect balance of science and social interaction with natural product chemists and bacterial geneticists, all sharing an obsession with Streptomyces and other Actinomycetes.
Fun Facts:
When I am not in the lab, I am…
biking or exploring the outdoors, food, breweries, and music that Texas has to offer.
What is the most gratifying aspect about mentoring graduate students?
Sharing whatever ideas or expertise I can to help them achieve their own success. Seeing your students develop and succeed in their career paths is one of the great rewards of working in academia.
Do you have any pets? If so, please tell us about them.
Two 8-week-old kittens, a brother and sister, currently called Biscuit (buff color) and Gravy (tortoise). Their mom is a feral cat recently rescued by some amazing veterinarians in Houston. The kittens have a ton of energy, between naps.