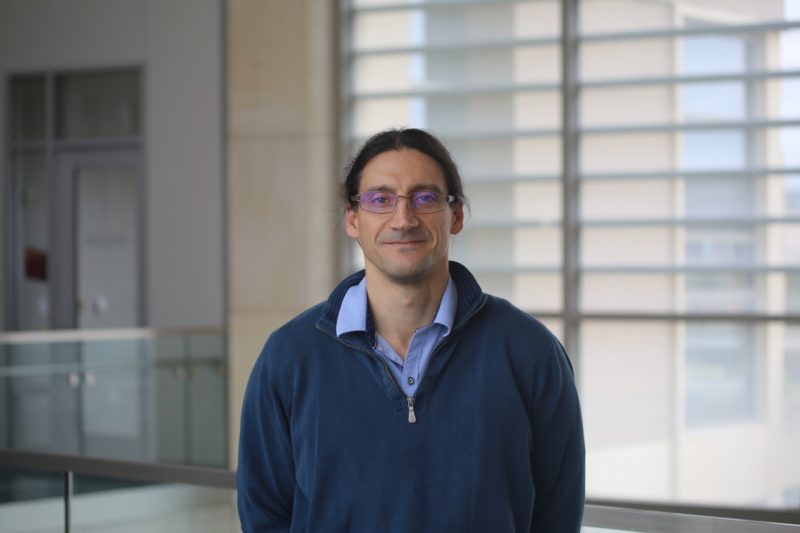 Dr. Daniel Paredes-Sabja
Food Engineering, Universidad Austral de Chile, Chile, 2002
Ph.D., Oregon State University, 2009
Post-Doctoral training, Department of Biomedical Sciences, Oregon State University, 2011
Previous Faculty Appointments: Universidad Andrés Bello
"Clostridioides difficile is a Gram positive, strictly anaerobic, spore-forming bacterium that causes C. difficile infections (CDI) and is considered as the most frequent hospital-acquired pathogen. Our group is addressing several independent that aim to understand how C. difficile interacts with the host."
Research Specialties
Bioinformatics and Genomics
Microbial Genetics
How long have you been a faculty member at Texas A&M?
1 year.
What made you choose to join the A&M faculty?
Texas A&M University has an outstanding infrastructure and scientific environment in many different disciplinary fields, making it an ideal place to foster multidisciplinary collaborative scientific initiatives.
How would you describe the atmosphere of the Genetics program with regard to collegiality (between students, students and faculty, faculty and faculty, etc…)?
I currently have one Genetics student that I am mentoring, and I have been surprised of the network that is woven to support these students; graduate students are very supportive of one another, and I perceive a high level of motivation.
What is your favorite conference to go to? And why?
Clostridium Pathogenesis Meeting is one of my favorite conferences. It's a small congress that gathers around 200 experts in the field from around the world. The environment is world-class and participating students get to interact with top notch scientist.
Fun Facts:
When I am not in the lab, I am…
Trying to identify a Off-road trail to navigate in Texas; or going for a run in the trails.
What is the most gratifying aspect about mentoring graduate students?
Mentoring graduate students is highly rewarding, in particular when graduate students have that "click" for science that makes it passion-driven, which typically starts when they show themselves that they are able to contribute with one or many original research articles in the field.