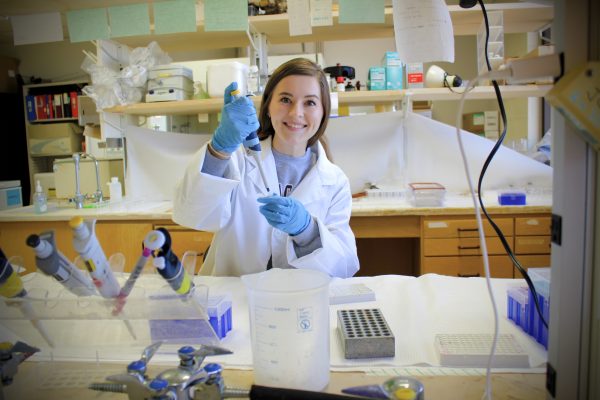 Casey Hughes Lago
Dr. David Threadgill's Laboratory
Entrance year: 2019
Hometown: Harlingen, TX
"I am studying the comparative and functional genomics of Campylobacter rectus, a gram-negative, anaerobic bacterium.  Although C. rectus was primarily known to cause periodontitis, it has recently been shown to cause various extraoral infections and is considered an emerging Campylobacter species.  I am specifically interested in determining how type III, type IV, and type VI secretion affects pathogenesis.  These processes are involved in delivering proteins or DNA into host cells or other bacteria.  By studying secretion systems in this organism, we will be able to further understand C. rectus biology and its contribution to human disease. "
Research Specialties
Bioinformatics and Genomics
Microbial Genetics
Why did you choose the Genetics PhD program at A&M?
I had heard many great things about GENE, and it became evident during recruitment that the program is very student-oriented.   I also really liked the interdisciplinary nature of the program.  Being exposed to many types of research (especially during rotations) is a huge plus.
What is at least one big lesson you have learned in the Genetics graduate program that you think is widely applicable to your future pursuits?
Anything worth doing will always have ups and downs.  I've found that having a support system of family and friends to lean on during the hard times is vital.
Fun Facts:
What would be your dream job after graduation from the program?
My dream job would be to work at a primarily undergraduate institution.  I enjoy interacting with undergraduate students and find teaching to be very rewarding.
What is your favorite thing about life in College Station?
I love living in a college town.  There is a great sense of community, and the energy on game days is amazing!  Also, being so close to Austin, Houston, and San Antonio is very convenient for weekend trips.
Do you have any pets? If so, please tell us about them.
We have a blue merle long-haired chihuahua named Theo!  He just turned a year old and loves to cuddle.  My childhood chihuahua is over 15 years old now and lives with my parents.    Someday I would like to start a small chihuahua breeding program and show chihuahuas.