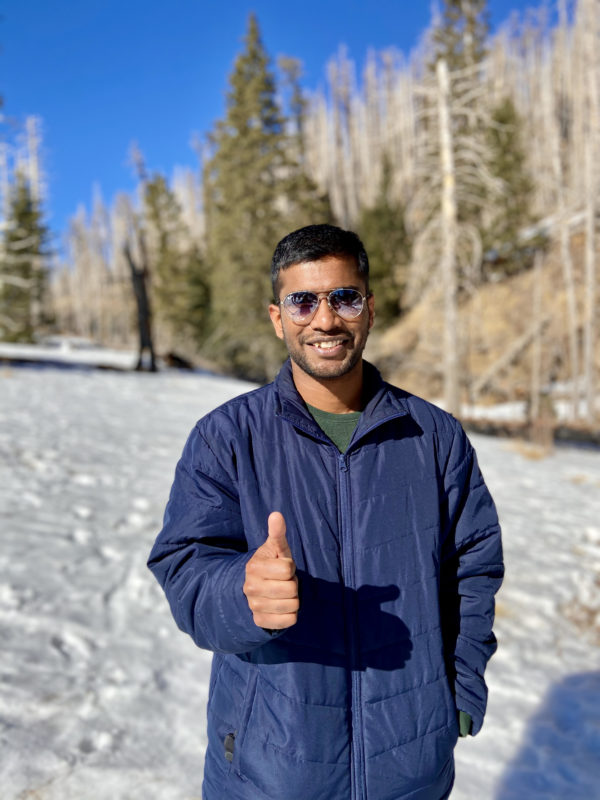 Aravindh Nagarajan
Dr. Helene Andrews-Polymenis Laboratory
Entrance year: 2018
Hometown: Chennai, India
"My project aims to understand the genetic factors underlying the host response to Staphylococcus aureus infection. We use a genetically diverse collaborative cross mice panel to identify the genes that are involved in the host-pathogen interaction."
Research Specialties
Bioinformatics and Genomics
Medical Genetics- Human and Animal
Microbial Genetics
Why did you choose the Genetics PhD program at A&M?
I chose the Genetics PhD program for its interdisciplinary nature. I was not sure about what model organisms or specific field I will be comfortable with. Faculty research presentations and student posters at the orientation week and lab rotations helped me narrow my interests.
What is at least one big lesson you have learned in the Genetics graduate program that you think is widely applicable to your future pursuits?
During my master's degree I was reluctant to attend seminars that are not related to my field of interest. I thought it was waste of time. But, after attending the interdisciplinary GENE seminars and journal club, I understood how easy it is to transfer techniques and ideas from one field to another. The interdisciplinary nature is something I will look for when I am applying to jobs or post-doc positions.
Fun Facts:
Who was your famous role model growing up?
Dr. A.P.J. Abdul Kalam, the former president of India. Despite being from a poor background, he went to a become a successful aerospace scientist and the 11th president of India. His love for students, science, and service inspired me to pursue higher education.
What would be your dream job after graduation from the program?
The one where I will be able to travel around the world to explore new places while still doing science! Be a lifelong post-doc in different countries? Let me know if there are any other good options. lol
What is your favorite thing about life in College Station?
It has some good fried chicken, barbecue and tex-mex restaurants. I will miss them when I leave!