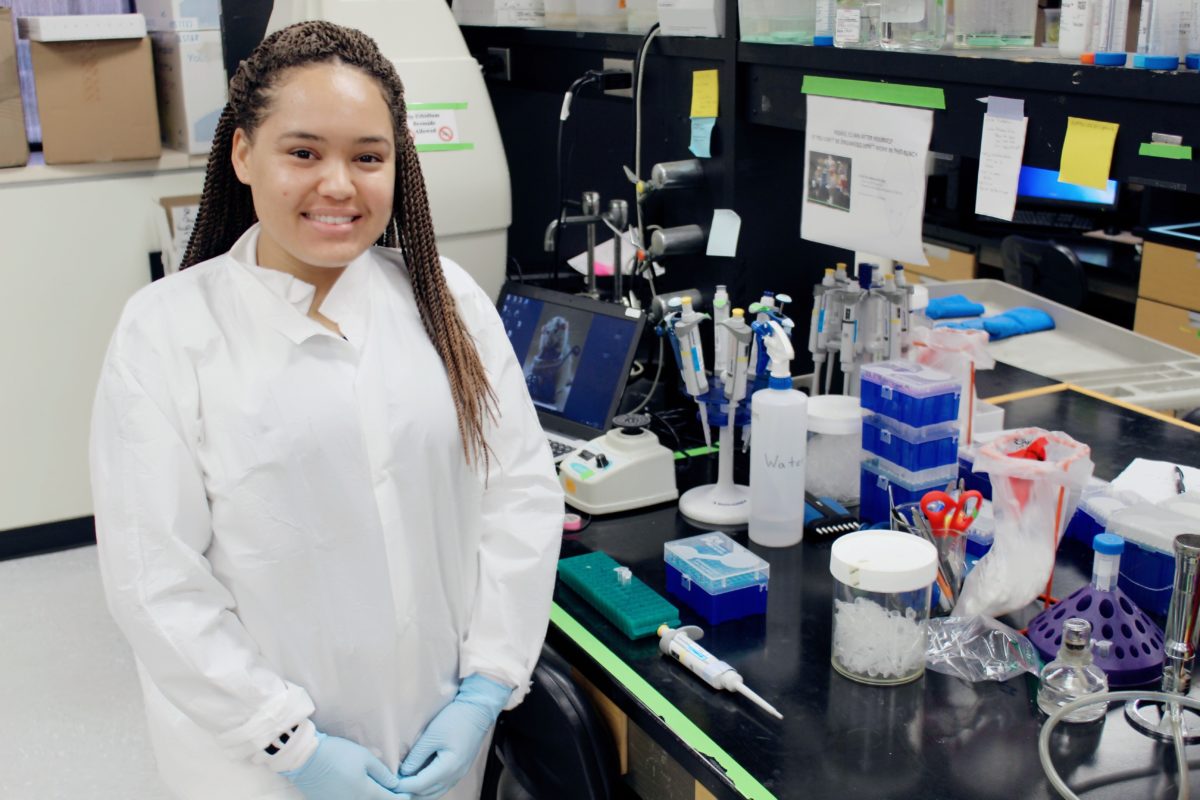 Brittni Ming-Whitfield
Dr. David Threadgill's Laboratory
Entrance year: 2018
Hometown: Long Beach California
"My research uses the Collaborative Cross mouse population in the investigation of how genetic background affects the response to heavy metal exposure. Information gathered is analyzed to help determine how genetic background affects deposition and complex dose responses in a genetically diverse population. Findings may help inform development of more reliable toxicity ranges by experimentally simulating the genetic diversity of the human population."
Research Specialties
Bioinformatics and Genomics
Conservation & Population Genetics
Medical Genetics- Human and Animal
Why did you choose the Genetics PhD program at A&M?
The interdisciplinary aspect of the program was attractive because I had many more options for laboratory placement. In addition, when I visited the students and faculty all made me feel comfortable and welcome. Overall the people I interacted with seemed like they genuinely cared about our success and completion of the program.
How did the first year of the program help you prepare for your independent research project?
The first year was important for gathering my literary resources for my project proposal and preliminary exam.
What is at least one big lesson you have learned in the Genetics graduate program that you think is widely applicable to your future pursuits?
I have learned not to compare my work habits to others and focus more on self-improvement and improvement of my quality of work.
Fun Facts:
Who was your famous role model growing up?
I grew up appreciating Gene Roddenberry and Rod Serling as they created my favorite TV shows Star Trek and Twilight Zone, respectively. Their early work is not only extremely creative for the time but cinematically and ideologically progressive. My goal is to approach life creatively and innovatively as they did with their work.
What would be your dream job after graduation from the program?
I have always been interested in the intersection of research, policy, and public health. I have considered working for a government agency like the NIEHS or EPA.
Do you have any hidden talents? If so, what are they.
Yes, I love to draw and paint. My favorite things to do are portraits in pencil or charcoal.
Do you have any pets? If so, please tell us about them.
I have a cat named Lorenzo "Ren" Anthony and a dog named Rosalind "Rosie" Franklin. They are best friends and can usually be found zooming around my apartment or sitting with me while I write or paint.